We Are The World Part Deux
Since
some
people aren't convinced that I really want to be a marine biologist in the future[you know who you are...and if you don't, you should go look at the comments section
here
], I feel obligated to prove myself in clothing/jewelry/good luck lobster form. There also seems to be a misconception that I'm geuninely losing sleep over Nick Carter and his association with the dolphins. I guess I'm going to have to start posting disclaimers now so that anonymous asshats realize that I'm only kidding? So sad. To go along with this post, you should listen to
The Brunettes
. Your Heart Dies and Whale in the Sand totally go hand in hand with the theme, yes? Your Heart Dies only applies because of this sole line from the song...
I could be as faithful as a seahorse
And if you were a marine biologist
They make me all warm and fuzzy inside.
This is a little plastic sea horse and shell necklace I bought eons ago at an aquarium in New Jersey. It's clearly too big to fit around my neck, so I wear it double banded around my wrist like a bracelet. Tell me, who doesn't somewhat love sea horses? Or the idea of sea horses. The males don't need anything like sympathy vests[you know, the ones that simulate being pregnant], because guess what? They males are the ones who have to have the babies[well...sort of]! I honestly find that hysterical; truly my favorite one of mother nature's gifts.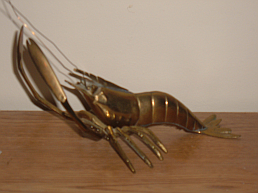 This is my good luck lobster named Toby. He's affectionately named after my favorite character in the
best movie ever
. I found him for $5 at a yard sale a week or two ago, and for some reason I believe he's going to bring me luck. Even if he turns out not be a good luck lobster, I would have bought him anyway. Lobsters are adorable! In an odd way. Because you know, they kind of look like giant sea bugs. And we all know how I feel about bugs.
Anyway, I am in lust with everything over at
day-lab.com
, especially their jewelry. If you're not into my deliciously tacky sea-horse bracelet[or lobsters], there's always the option of buying this
adorable clear plastic seahorse necklace
for $18.
My favorite necklace there,
Terror of the Deep
, has sold out before I got a chance to purchase it. Damn. However, its
baby is for sale for $23
. A little much for a glorified Shrinky Dink that you could probably make yourself, but I guess if you're lazy like me[and you've never really mastered the art of Shrinky-Dinking] this would be the best choice.
Even though it mysteriously disappeared on the Berdorf's website[it was there two days ago, but I guess it sold out that quickly] I would love to own this Marc Jacobs shark dress. The only qualm I have is the color[oatmeal is not very flattering on anyone], but the inconspicuous shark on the front might make up for the strange color. My mom is being amazing and saying she'll buy me one expensive dress for my birthday, and I am beyond thrilled about this opportunity. If I can find this dress in black[if I can find this dress
at all
. I can't believe Bergdorf's did this to me. What a hoe.], I'll probably ask for it. But until then, I've logged hours of time pricing things on Net-A-Porter and will continue to do so just so I have
plenty
of back-ups.