Dig For Fire [and Sometimes Shoes]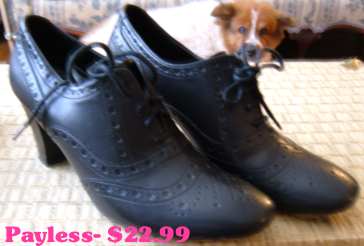 [I love how you can see my dog lurking behind the shoes!]
Even though it is still snowy and icy, I've already taken an intrepid step oustside with these heels, and braved the snowy tundra that is Pennsylvania in the winter. Well you know, it's not
really
as bad as a snowy tundra, but I don't underestimate your intelligence for a second. I was surprised when I tried these on, because they are so comfy and pretty! To be honest, I expected them to look a little like witch-shoes. You can't blame me; I've had terrible luck with Payless in the past. My feet have suffered the worst pain of their lives in the devil shoes Payless sold me! But I stand by the statement 'let bygones be bygones'. Especially when it comes to footwear.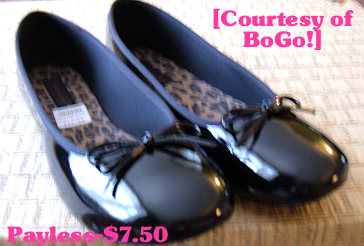 I only bought these because I thought it would be good to invest in a simple pair of black flats. Up until these, I hadn't found a pair that suited me well enough, so I overwore
these
until the point where there is now a hole in the toe. However, I will always love my holey-toed green flats-we've been through the mud together. And yes, I unfortunately meant that literally. A word to the wise-never try to jump across a "creek" in skinny jeans and flats. You will get muddy.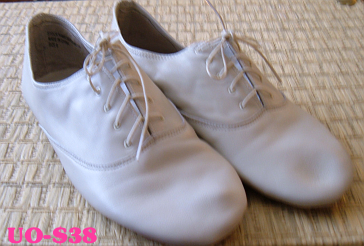 When I saw an article about jazz shoes in the November[??] issue of Nylon, I made them the object of my shoe affection. It took me a while to find a pair, but luckily Urban Outfitters had my back and started selling some
here
. A very sneaky trick indeed, hiding them in the sneakers section. If it hadn't been for a case of supreme boredom, I would have never even seen them.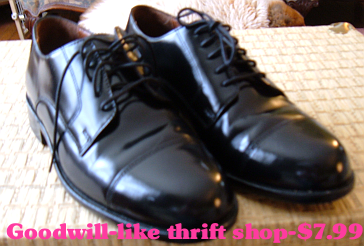 They're a six and a half mens size, and they fit me perfectly. I choose to believe that this was no coincidence, and that the shoe gods[Imelda Marcos??] had these specific shoes waiting there for me at the Good Samaritan. They look perfect with everything except jeans, but I'm really kind of over jeans. If only they weren't so damn comfortable, I wouldn't have any in my closet at all. I'd be fine wearing dresses all the time.
Tell me about your favorite shoes if you feel like it!
I'm off to watch the rest of Growing Pains, which is basically my second favorite show ever [Golden Girls is the first, obviously].
PS:
When I first saw this, I didn't understand why everyone thought it was so funny. Then I realized why; it hit too close to home. [The shoe obsession part, not the the part about being a man in a blonde wig called Kelly] I still think it's the single strangest thing I've ever seen, but it is entertaining, and surprisingly easy to quote.
Labels: Imelda Marcos=shoe god, imma betch slap you shetbag, shoes