Render Me Totally Annoying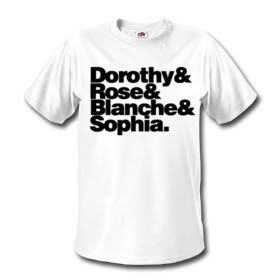 Someday, when my mom is eighty years old, I hope she acts just like Sophia.
My personal opinion is that the Golden Girls are the most underrated style icons of their time.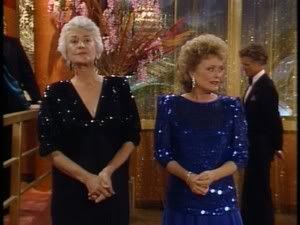 Especially Dorothy and Blanche-look at them rock those shoulder pads. Albeit, I'd probably
claw my eyes out with a scissor
if I saw anyone emulating this now. Yes, their outfits may show a horrendous lack of tast now-but think about it in a different way.
For being 50 year old+ woman living in Florida during the eighties, they were damn sharp dressers.
The shirt comes in white print on black too. But this is the one I'm getting.
Find these shirts here, on the second page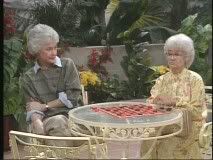 Singlehandedly the most amazing on-screen mother/daughter team EVER.
Sophia
: I need the money for my old age.
Dorothy
: Old age? You don't leave fingerprints anymore.
Dane Cook has
zilch
on these women, I tell you.
PS:I think everyone should read
The Bell Jar
by Sylvia Plath. It's f'ing incredible, if you don't mind reading something kind of dreary. It's perfect for reading when I'm bored during health class. Which is all the time. My health 'teacher' is a madwoman-she's like my science teacher, except she wears North Face fleece jackets every day.
A WORD OF IMPORTANT, FRIENDLY ADVICE!!!
If you were thinking about buying a t-shirt, remember that they are made in
MENS
size shirts!!! I got a medium and it's
huge
in the arms and loose on the sides, but my mom can shorten the sleeves and I'm planning to wear it with a vest to minimize the bagginess.
Other than that, it looks really good on.
Labels: The Golden Girls