Anyone who loves Audrey Hepburn must've seen (or should see) Roman Holiday. I got it in the mail yesterday and put it in eagerly-mainly because it's one of the only movies by her I haven't seen. During the entire movie-she's only in five outfits.

1)Her ball gown

2)Her night gown

3)Joe Bradleys'(Gregory Peck) pajamas

4)the outfit she wears running away/out and about in Rome

5)The outfit she wears during the press conference

But my favorite was the outfit she wore the entire day she spent with Gregory Peck.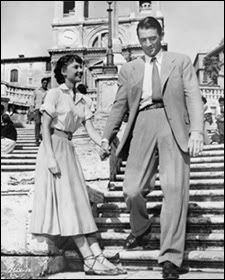 So, in honor of Roman Holiday and Audrey Hepburn- I'm going to attempt to recreate this look. (Note-the key word being "attempt".)
First, there's the white blouse-like top. And since most people don't have the almost non-exsistent waist that I will always envy Audrey Hepburn for, I decided to update the look. (Which is really just me trying to sound professional for, "I'm not doing an exact copy of what's in the picture because after literally hours of scouring the internet I couldn't find anything that resembled the pieces that I wanted to use.")

Found
here
at probably the greatest place ever, 15dollarstore.com. Everything is fifteen dollars, and most of the stuff is really cute. Anyway, this looks like it might be a bit sheer, so you should probably find a plain white camisole or thin tank top to wear underneath it.

Then there's this one for $48.00 at Urbanoutfitters.com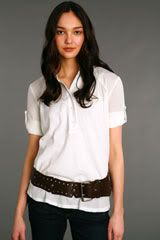 It would personally like this one more because it looks a little more slouchy and relaxed- but I prefer the actual look of the other one.


This one would almost be ideal, it's got the same 'look' and it's only $20. Also at Urbanoutfitters.com.

Though, if you have money to burn- I just spent ten minutes drooling over this Anthropologie blouse for $58 (aka-way out of my price range for right now.)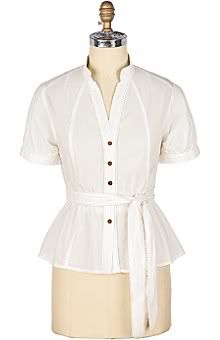 It's right
here
if you want to join me in my drooling(Yes, I'm aware that sounded gross).

Of course, the skirt is next. If you really like the look of all white, then there's this skirt at Anthropologie(don't worry, it's a sale item) for $40, reduced from $118. I say that's a fair deal.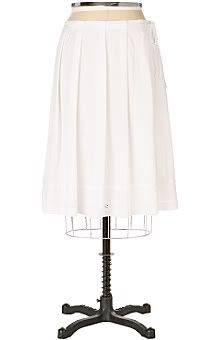 Normally, I don't wear pink that much. But since this isn't annoying hot pink, and a really pretty light rosy pink-this skirt is nice.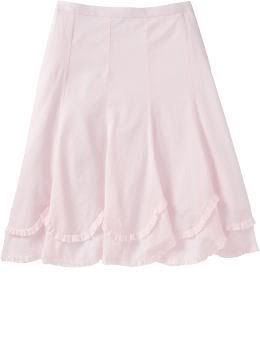 This is $35 at
oldnavy.com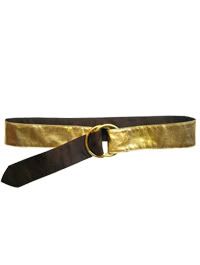 If you wore this belt on the chocolate brown side, it would look perfect against all the white. I guess the metallic would look ok too, but I'm not one for metallic belts
.
For a more authentic look, this one is definitely nicer. But lucky you, they're both $16 dollars at
amiciaccessories.com
in the belt section. This one comes in black too, if you decide on the black shoes.

And of course, the finishing touch to any outfit(and one of my favorite things to shop for)- shoes. I didn't want to get too lace up sandal-y because someontimes people take it way too far and lace half way up their thighs.(I've seen this done, and it's not pretty.)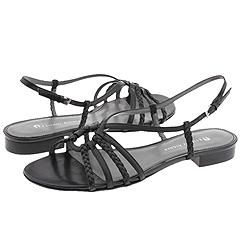 The first pair of sandals I found here at
Zappos.com
are adorable Etienne Aigner sandals-I don't even usually like this style. The only problem was that these are $63.95. But you could always save up!....So maybe not. Anyway, I searched around a bit more and found two cheaper alternatives.

This pair is $40.95-still a bit pricey, but reasonable. Found here at
Zappos.com
Now this pair looks seriously awkward/weird/fugly in the picture, but I've seen this sandal in person and trust me, it looks so much better. $18 on sale, at Urbanoutfitter.com.

So, now that you have the outfit, I suggest you go out to your nearest blockbuster and rent Roman Holiday if you haven't seen it. Besides, now that Fox is remaking the Omen with Liev Schreiber-I think Gregory Peck would appreciate it.
Labels: Audrey Hepburn